Gender Blender is a social and supportive space for transgender and non-binary adults to connect, have fun, and access resources. It is a community-led space and does not provide therapy services. But we do provide a welcoming, affirming, non-judgmental place to meet and socialize with other trans and non-binary adults. 
Meetings are facilitated by trans and non-binary community volunteers and are casual and conversational. This is a friendly place to get connected to resources and community. We also host larger events throughout the year based on group interests, like BBQs, outdoor activities, parties, and educational programs.  
Gender Blender meetings are private and exclusively for transgender and non-binary adults (18+). Cis partners, friends, and family members are welcome to join at events throughout the year! 
If you have any questions, reach out anytime at blender@thecenterproject.org. One of our volunteers will get back to you as soon as we can. Join our email list for regular updates!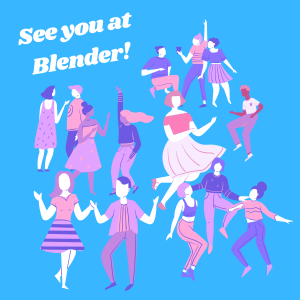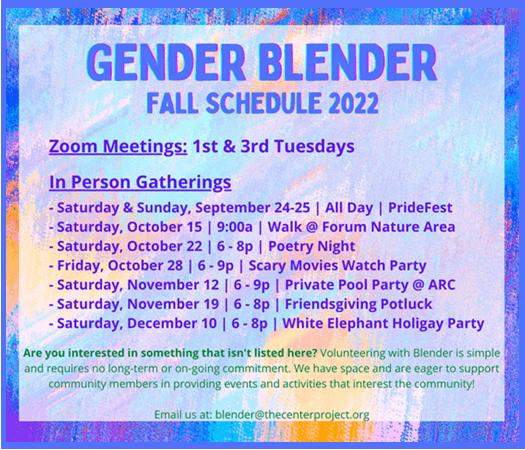 In person meetings are a chance to relax and spend time with other transgender and non-binary adults. We do things like potlucks, game nights, arts & crafts, and other low key hanging out. It is a safe and supportive space to be yourself!  
Upcoming Meetings
Upcoming Meetings:
– Saturday, November 19 | 6 – 8p | Friendsgiving Potluck
– Saturday, December 10 | 6 – 8p | White Elephant Holigay Party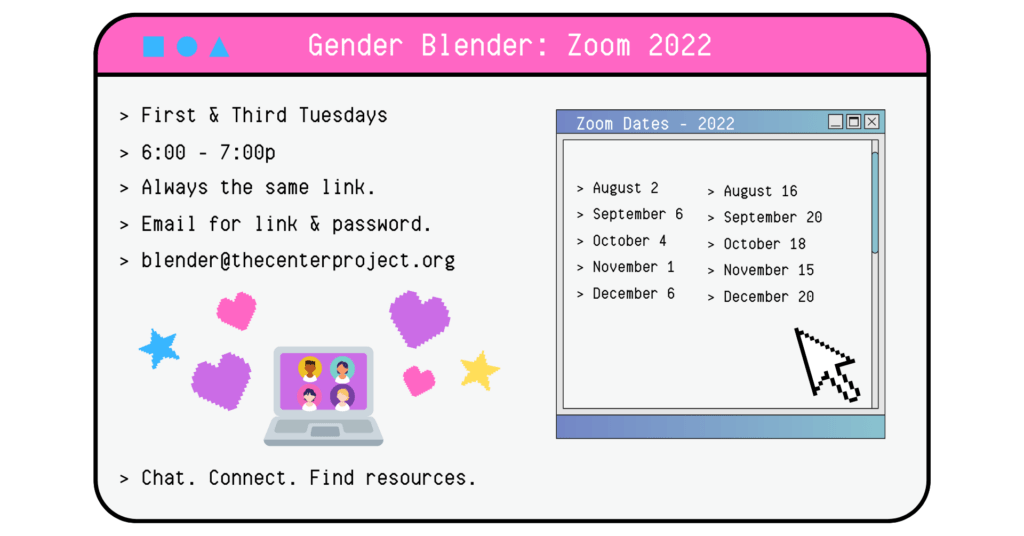 Join us on zoom for connection & intentional conversation, to ask questions, or get connected with resources. Zoom meetings are on the 1st and 3rd Tuesdays of every month and conversation is loosely structured around recent or upcoming in-person activities.
Click here to join our email list!
TCP hosts a secret, private Facebook group that provides a place for connection and communication about Gender Blender events. If you would like to join this group, or if you would like information about our affiliated Discord server, please email us at blender@thecenterproject.org for more information. 
All transgender and non-binary adults are welcome to join us, regardless of gender identity, gender presentation / expression or transition status.