We are excited to begin open hours at TCP and hope that over the next few months we will be able to expand these into more regular dates for you to enjoy! If you have ideas and a little time to help run an open night, be sure to check out our volunteer opportunities!
Game Night
Second Friday of each month
6:00pm-10:00pm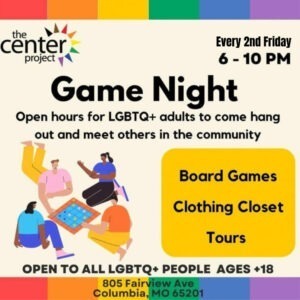 Swing by TCP for an evening of games, laughter, and great conversation! Not into gaming as much, stop by and meet new friends, have a chat and check out the space! The clothing closet will also be available for folks to check out!
Coffee With Queers Brunch
Third Sunday of each month
10:00am-12:00pm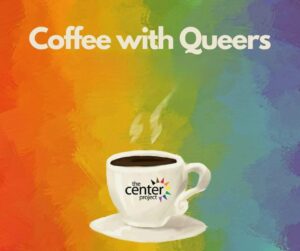 Join us for brunch every third Sunday of the month at TCP for some coffee and a light breakfast, along with great company!
Queer Peers
Last Friday of each month
6:00-9:00pm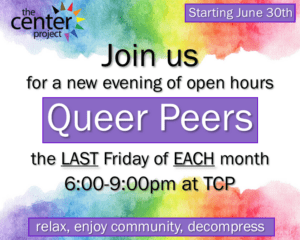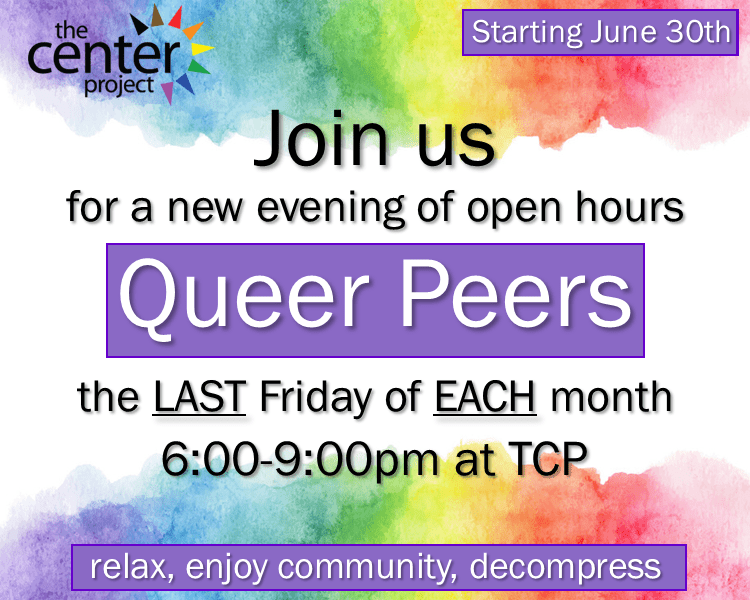 Join us for a new evening of Open Hours at the Center Project. Beginning June 30th, join us for Queer Peers from 6:00-9:00pm at The Center Project each month on the last Friday!
Life can be stressful on even the easiest days! Let's take some time at the end of each month to focus on relaxation and decompression! An evening of talking, sharing, and just letting the month go can be so good for the soul with community!
This will be an 18+ evening.
Light snacks will be provided, but feel free to bring your own, or bring something to share!
If you have any questions please feel free to reach out! janet.davis@thecenterproject.org